Adding Testimonials in Testimonial Section
In your WP Admin Panel, Go to Appearance >> Customize >> Testimonials Settings >> Homepage Testimonial settings
Here you will see a set of options, Testimonial content is one of them. Via advanced feature of Repeater control, you can add as many testimonials as you want, just need to click on button "+ Add new Testimonial".  After a click, You will see a new testimonial is added but still you need to fill up the blank fields related to that added Testimonial. Let's see what are the fields to fill for each testimonial:
Enable Testimonial on homepage: You can hide/show the section.
Title: The title for your Testimonial will be the Testimonial's name.
Subtitle: An extra to add a name for your Testimonial title as a subtitle.
Description: This will be your Testimonial's quote.
Link: You can add a custom link.
Open link in new tab: You can choose to have the custom link open in a new web tab or in the current one.
Image: Upload your Testimonial's image.
Designation: Use this field to indicate your testimonial's credentials, titles or other pertinent info.
Testimonial section variations
There are various variations of the Testimonial section in the theme. You can select any one that suits your site.
Design 1
Design 2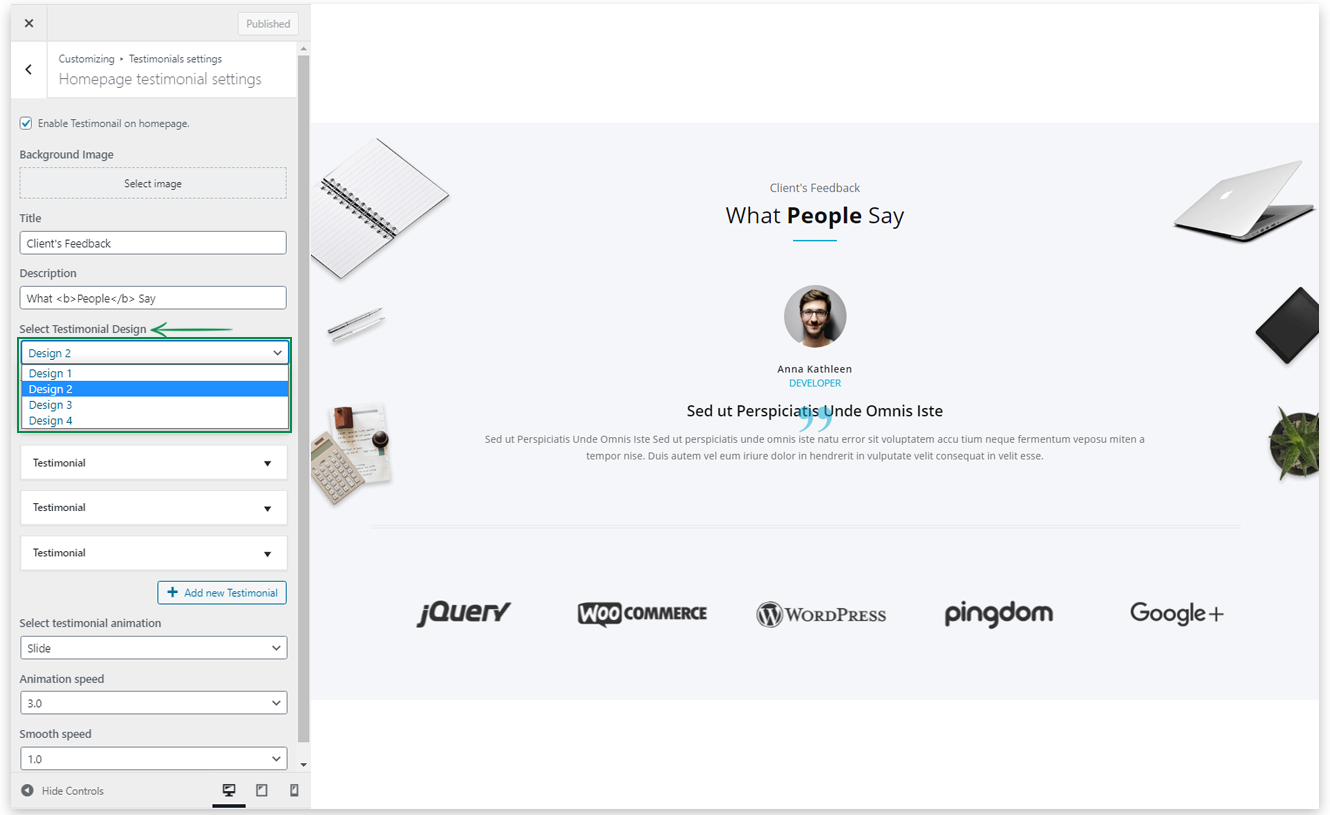 Design 3
Design 4
Settings of the Testimonial section
Background Image: Upload an image to be used as the background of your Testimonial section.
Title: Add here the title for your Testimonial section.
Description: Add here the description for your Testimonial section.
Select testimonial animation: Set the type of slide effect either Slide or a Fade effect.
Animation speed: Set here the time interval for the next slide to come, in seconds.
Smooth speed: Set the time between which the slide end up its travel, in seconds.
After setting up a Testimonial section, you can go to set up the Latest News section.