A portfolio is a collection of projects. It is also an excellent way to show your work to clients and prospects. To add your portfolio, you first need to add your projects. You can follow the instructions in our Adding a Project tutorial.
You can show your portfolio in many ways. Let see all one by one:
1) Portfolio on Homepage
You can show your Portfolio on the Homepage. You can even filter projects to show up in Portfolio based on their project categories.
1.1 Displaying the Portfolio section on the Homepage
In your WP Admin Panel, Go to Appearance >> Customize >> Project settings >> Homepage project settings
Here you can set the Title of the portfolio section, its Description and other settings for the Slider effect.
Enable Home Project section: You can hide/show the section.
Title: Add here the title for your portfolio section.
Description: Add here the description of your portfolio section.
Animation speed: Set here the time interval for the next slide to come, in seconds.
Smooth speed: Set the time between which the slide end up its travel, in seconds.
1.2 Hiding the Portfolio section from Homepage
In your WP Admin Panel, Go to Appearance >> Customize >> Theme Layout Manager >> Theme Layout Manager
Though Theme Layout Manager setting you can disable/hide the portfolio section from the Homepage.
2) Creating a Portfolio page
Once you have added your Projects, you want to aggregate them in your Portfolio page(s).
In your Admin Panel, look for the Pages tab and click on "Add New"
Give your portfolio a name
We have three optional templates to show projects in three different layouts. Select your preferred template between Portfolio 2 Column, Portfolio 3 Column, and Portfolio 4 Column.
3) Displaying Portfolio in the menu by Project Category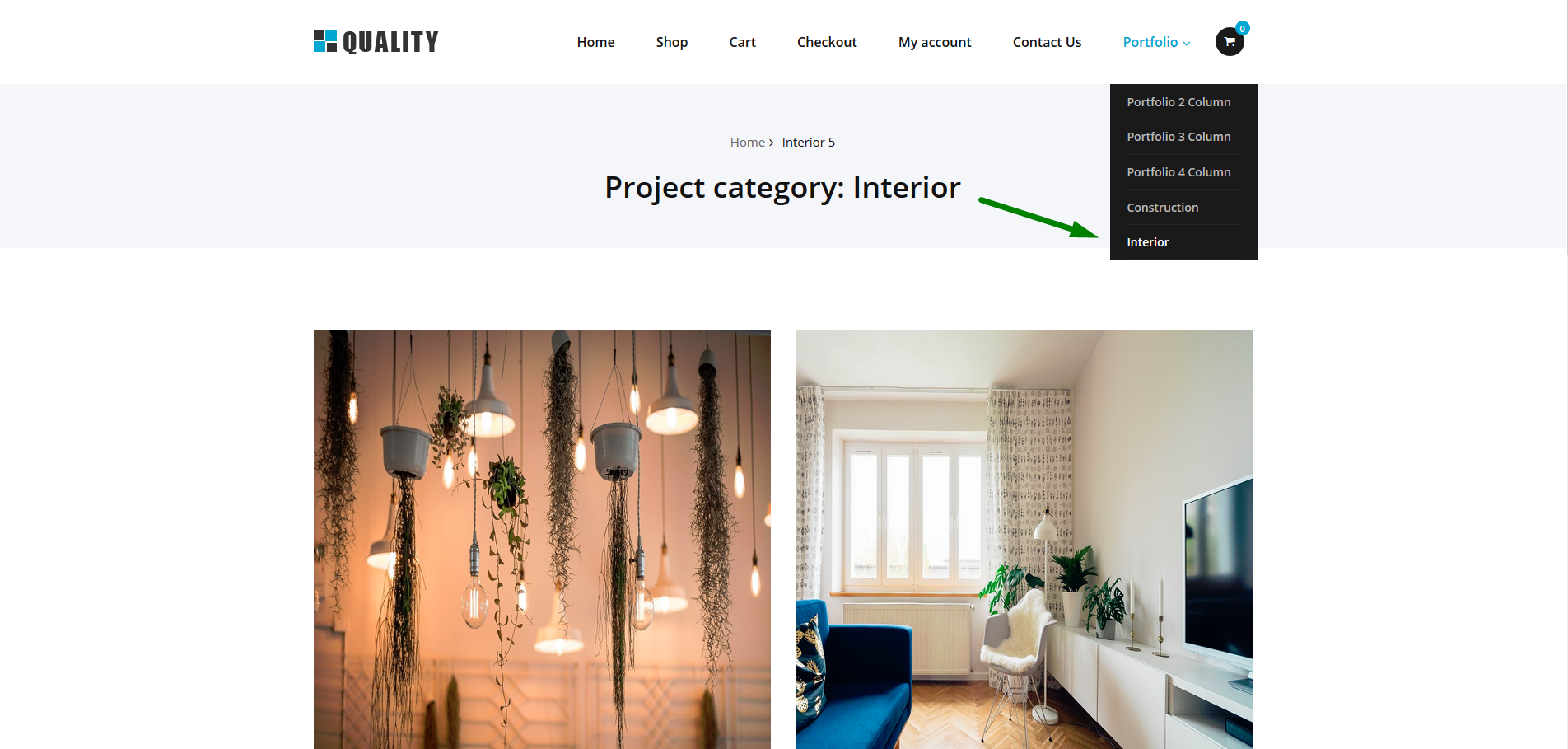 In Quality PRO, you can choose to display your Portfolio Categories as separate pages and add them separately to the menu. There is no limit to the number of categories you can add to your menu. See the steps below for more information.
In the WP Admin Panel, head to Appearance => Menu
Click on the Screen Options tab to visualize the Portfolio category checkbox
Activate the Project category checkbox by clicking on the box
You will now see a list of the Project categories you have created.
Select all the ones you want to add to your menu
Click the Add to Menu button.
Arrange them on your menu as you best like by dragging them
Click on the Save Menu button before leaving the screen to apply the changes
After setting up a Project section, you can go to set up the Testimonial section.