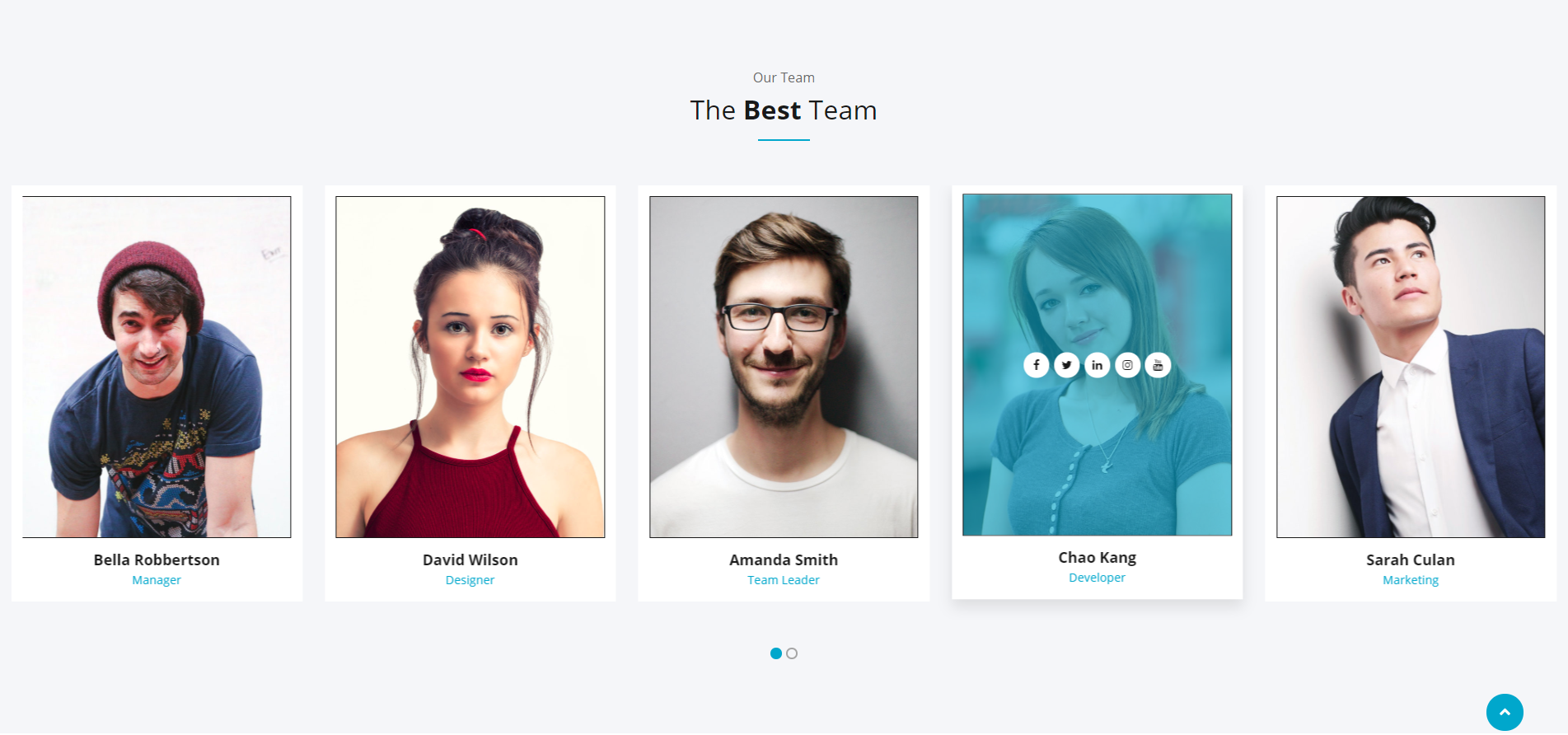 Creating your Team section
In your WP Admin Panel, Go to Appearance >> Customize >> Team Settings
Here you will find all the options to set up and can manage your Team section. Available settings are as follows:
Enable Home Team section: You can hide/show the section.
Title: Add here the title for your Team section.
Description: Add here the description for your Team section.
Animation speed: Set here the time interval for the next slide to come, in seconds.
Smooth speed: Set the time between which the slide end up its travel, in seconds.
Team section variations
There are various designs in the team section on the homepage. You can choose anyone which suits best on your site.
Design 1
Design 2
Design 3
Design 4
Adding/deleting individual Team members
Team Content – From here you can add your Team members. An advanced feature of Repeater control enables you to add members to your Team faster. You can add as many as team members you want, just need to click on button "+ Add new Team Member".  After the click, you noticed a new Team Member is added but still you need to fill up the blank fields related to that added Team Member. Let's see what the fields to fill for each Team Member:
Title:– Name of the Team member.
Subtitle: Title, role or short bio of the Team member.
Link: In the section, you can only add a limited amount of information about the specific member. If you need to have more text, you can create a dedicated page for the member and link it here.
Open link in new tab: Set target to open link in a new tab.
Image: Upload the members' image.
Social icons: Add as many as Social Icons with links to the team member just via clicking on the button "+Add Icons".
To delete a team member, locate its field and click on the "Delete field" in red at the bottom left of the Member field.
Removing the team section from the homepage
In your WP Admin Panel, Go to Appearance >> Customize >> Theme Layout Manager >> Theme Layout Manager
You can disable the Team section from the homepage using Theme Layout Manager setting, just drag the section's icon into the "Disable" box.
After setting up a Team section, you can go to set up the Clients section.